NCSU University Theatre
production of
" RE: Design "
An adaptation of the correspondence of Charles Darwin, Asa Gray, and others
November 2009
Raleigh, NC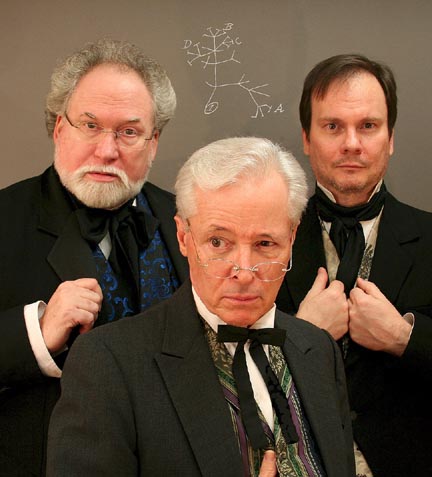 Jim Sullivan, in the middle, along with fellow actors John McIlwee and Gregor McElvogue
Re:Design
Reviled or revered, naturalist Charles Darwin continues to have an impact on today's science and religious education. But the brief references to his work in high school classrooms don't reveal the nature and personality of the man behind the scientific theories of the origin of species.
Charles Darwin spent a lifetime corresponding with scientists and experts in many fields. The Darwin Correspondence project undertook cataloguing these documents. Playwright Craig Baxter undertook making some of those letters come to life in a stage play. University Theatre gives voice to that play in this production of Re:Design, featuring Gregor McElvogue as Charles Darwin and Jim Sullivan as the Archivist. The play is directed by Terri L. Janney.
For forty years, Darwin corresponded with renowned American botanist Asa Gray, played by theatre Director John McIlwee, even though the men held differing views. Unlike today's fiery and even violent scientific, moral and philosophical debates, the two maintained a long-term cordial intellectual and friendly relationship through the publication of Darwin's books, the death of Darwin's child, the American Civil War, Darwin's chronic illness and both men's old-age infirmities. Brought to the stage, the letters allow us to visit in the lives of these two men as they discuss and debate ideas during a time of great scientific development.
The dramatic work is presented as part of the events developed by UNC-TV, The North Carolina Museum of Natural Sciences and other local partners to spark the viewer's intelligence and enjoyment in conjunction with The Human Spark series that will be aired on UNC-TV in January 2010. The Human Spark series, hosted by Alan Alda, asks the questions: what is the nature of human uniqueness? Where did the human spark ignite, and when? And perhaps most tantalizingly, why? In a lively jaunt across three continents, Alda uses his trademark humor and curiosity to explore his own brain and to conduct dozens of interviews with leading scientists and researchers.
Press the 'BACK' button to return to the PREVIOUS Screen