Lincoln Grammar School
Stratford Avenue and Central Avenue
Bridgeport, Ct.
Graduating Class of 1957
4th Row: Sylvester Williams, Ronny Nihoff, Mike Skoczylas, Wardell Brantley, Henry Williams, John Hodska, Tony Travella.
3rd Row: ?, Charles Bell, Kenneth Wilson,?,Earl Edwards, Richard Svirskas, Dave Golias, Steve Nacovitch, Richard Kurimsky, ?,?, Billy Walsh,?,James Rockwell, Jimmy Walsh,?, Paul Moyer, ?.
2nd Row: Ronnie Lee, Carol Ann Robinson, Kathleen Wood, ?, Linda Eichinger, Eileen Wuchek, Peggy Hoyt, Alice Klisenbauer, Irma Middleton, Sandra Taubinger, Audrey Bynum, Barbara Dulin, Etheline Kirby, Elaine Kopchak, Adelaide Goulding, Larry Cassese, Anthony Mastroni.
1st Row: Ona Blaze, Barbara Bartis, Annie Fortson, Bettieanne Kasson, Mattie Fortson,?, Patricia Vojtek, Agnes (Diane) Sukoian, Evelyn Kaplanka, Esther Blaskey, Martha Samilano, Julie Biafore, Marlene Dunn.
Other remembered names (but not faces): Carol Ann 'Dusty' Arkinson, Stephen Nasovitch, Audrey Bynum.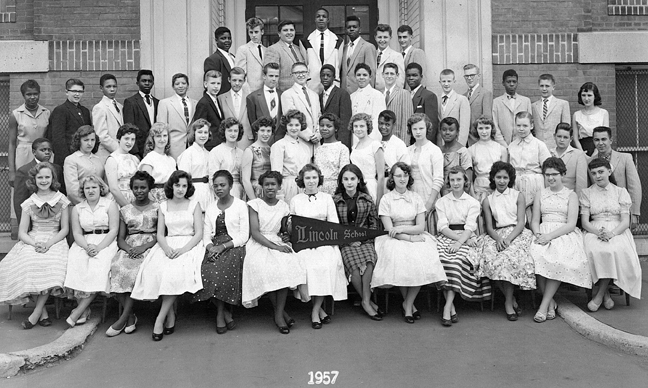 (Thanks to B.J. (Mastroni) Perez for this photo)


Press the 'BACK' button to return to the PREVIOUS Screen