Blessed Sacrament Grammar School
Graduating Class of 1958

Top Row: Harry Lyons, Paul Kurmay, Gary Boyhen, Richard Cecere, Richard Ganser.
4th Row: Al Grinrod, Louis DelVecchio, Pete Percivalli, Maria Diaz, Jerry McCarthy, Albert Fortier, David Calchera, Joe Sullivan, Ed Slattery, Frank Sorrentino, Art Guglielmoni, Jim Sullivan, Ray Day, Bernard Crowley, Matilda Andrade, Donald Rickel, David Connolly, Tommy Lynch.
3rd Row: Donald DelVecchio, Mary Lou Serritella, Judy Dickerson, ?, Pat Ward, RoseMarie Duhaime, Angela Manino, Sharon Williams, Janet Galla, Diane Roesch, Tommy Brennan, Martin Tristine.
2nd Row: Eileen Connelly, Alma Munson, Marion Burns, Irene Slagle, Brian Hariskevich, Joe Schlosser, Richard Heiden, John Reh, Richard Laviolette, Chris Sorrentino, Mike Loban, Fran Roman, Rich Tremalio, Art Lemieux, Billy Sabol, Barbara Rajotte, Diana Lorenzini, Cathy Shanley, Bernadette Lynch.
Front Row: Roseanne Cerra, Cathy Olson, Kathy Anderson, Diane Vanek, Carol Smith, Darlene Shackleton, Joan Cichucki, Fr. Spodnick, Barbara Dlugos, Noreen Serritella, Marie Ruggiero, Barbara Thomas, Arlene Pistey, Sally Keating.

We still have three faces without a name (see "?"), so if you can id them, please send information to Jim Sullivan.
Note: Barry Clark and Gail Rowe were in our 7th grade photos, but not here - anyone remember what happened to them?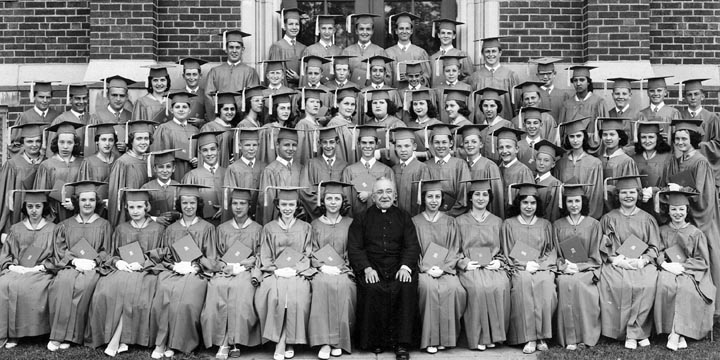 Press the 'BACK' button to return to the PREVIOUS Screen