Everyday life in Success Park Apartments; a Kitchen Scene, Circa: 1954
Building 74, Apartment 34
More Childhood Memories of Bridgeport, Connecticut
Provided by John Babina
(Edison 1955, Hall 1956, Notre Dame 1961; and Success Park)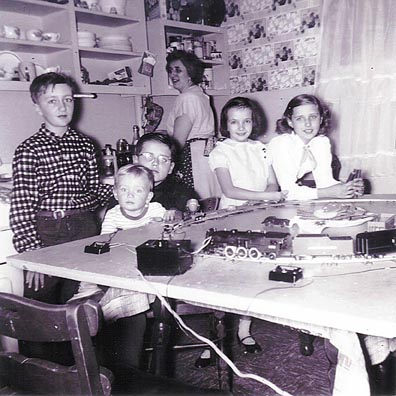 This one is a great shot of a Success Park kitchen . . . . Building 74, Apartment 34.
The folks from left to right, are:
Jack Colligan: Currently works at Bridgeport City Hall. He is Maureen White's cousin and was visiting the Whites who lived next door.
Dan Babina: Baby in my lap ­ currently a science teacher at Harding ­ Dan just won a $20,000 excellence in teaching award.
John Babina, Jr.: Me, with glasses - seated.

Mary F. Babina: My mother ­ in the apron.
Maureen White (Steiz): Our next door neighbor.
Ada Babina (Sala): Currently a teacher at Jockey Hollow School in Monroe.
This photo is interesting for many reasons . . .
1) Note the open cabinets. The dishes came from going to the Colonial Theater near the GE plant ­ you got a free dish on dish night ­ they gave away the dishes because TV was killing the movies and they needed a gimmick to draw an audience.
2) The washing machine on the far left behind Jack ­ hooked up to the sink with a hose. Note the box of SURF on the top back shelf.
3) The open covered high temperature steam pipe in front of my mother ­ when we brushed it and got a burn we were called stupid or careless ­ nobody thought of calling a lawyer! That pipe ran up through the bathroom too! Note the pot holders near the pipe - which we made as kids and sold!
4) If you look on the shelf in front of my mother you will see a box of stick matches to light the gas stove ­ which did not have a pilot light. Many a time she would light the oven only to have it flash back and singe her hair and eyebrows! You had to open the door and reach inside to light the oven.
5) And, of course, the American Flyer Train set, made in New Haven by A C Gilbert. The ultimate toy for boys of that era. The Apartment was so small you had to have the train track tacked on a plywood sheet to store in a back hall pantry. I got that AF set back in 1952. The train set still runs and is on my (much larger) layout in my current basement.
Press the 'BACK' button to return to the Previous Screen