Garfield Grammar School
Graduating Class of 1960
Top Row (left to right): John Cybul, Eugene Matuschewsky, Bradley Fearon, Peter Stevens, Robert Golias.
Third Row: Nick Yanosy, Walter Bassarab, Richard Kovalsky, Nadja Pluschtsch, Andrea Norkaitis, Vija Zagars, Dorothy Mickolaychuk, Sandra Matthews, Pat Voytek, John Savorey, George Matey, Stanley Lazarkwicz.
Second Row: Peter Scinto, Kathy Tkacs, Marianne Novak, Marlene Romano, Donna Semon, Marilyn Fischer, Marilyn Grillo, Lorena Bagnell, Dennis O'Connor.
Front Row: Joan Simmonds, Judy Jankura, Dorothy Haschak, George Mackey, Pat Benedetto, Tom Tomachick, Pat Hermann, Zelda Freeman, Pat Lazar.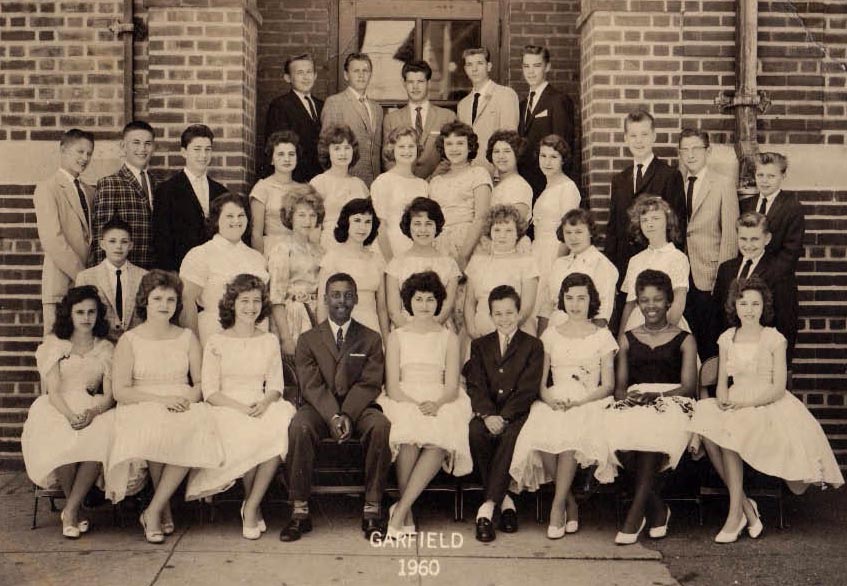 Note: Please e-mail us any corrections you might know.
(Many Thanks to Walter Bassarab for sharing this photo)

Press the 'BACK' button to return to the PREVIOUS Screen