Waltersville Grammar School
Graduating Class of 1959
Top Row: Eugene Waller, Lenny Ianncale, Eddie Hatchett, ?-Salerno, Dennis Lewis, Theodore Graham, David White, Robert Blackwell, Howard Colbert, Donald Seminoro.
Fourth Row: John Hall (or maybe Hull?), ?, Adrianne Beale, ?, Sherry Gomez, Barbara Wheeler, Roger (formerly Pennoyer) Hagberg.
Third Row: Ross Carley, ?, Arthur Powers, Dominic Destefano, David Jones, ?, ?.
Second Row: Julia Larracuente, Loretta Bridges, ?, Patricia Borucki, Alice Coursen, ?, ?-Dennis, ?, Cathy Stokes, Mary Hall (or Hull).
First Row: ?-Federicci, Wistor Falcon, Louis Stevens, Julia Haggerty, Margaret Beale, Catherine Napolitano, ?, John Schaffer, Charles Briley, Cynthia Wynn.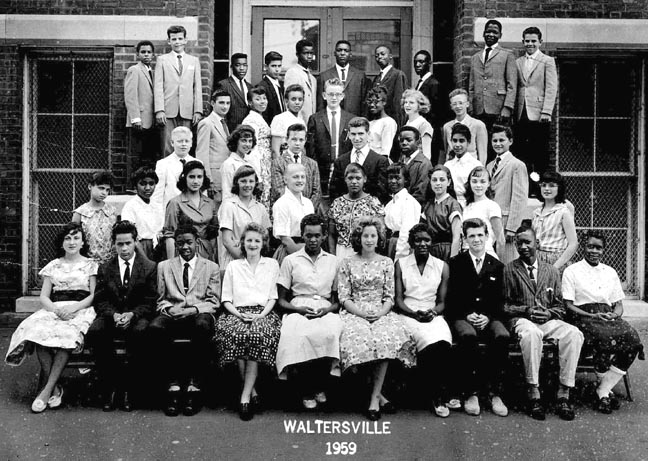 If you can provide any id's, e-mail them to Jim Sullivan, webmaster of this site.
(Thanks to Roger (formerly Pennoyer) Hagberg for this photo)
Press the 'BACK' button to return to the PREVIOUS Screen