Cornelius 'Neal' Ball
Major League Baseball Player
Lived on Wilmot Avenue
in the East End of
Bridgeport, Connecticut

From Member Jimmy Ferris:
"I'll bet most people don't know that a baseball legend lived among us, right in the East End of Bridgeport. Neal Ball lived on Wilmot Avenue, two blocks from the famous C & C Pizza. I knew him, because I was his paperboy."

Who was Neal Ball? The following is from historical records. Cornelius "Neal" Ball (April 22, 1881 - October 15, 1957), the American baseball player, achieved fame on July 19, 1909, playing for the Cleveland Naps, when he pulled off the first unassisted triple play in Major League baseball history in a game against the Boston Red Sox. His glove from that game is on exhibit at the Baseball Hall of Fame. Playing shortstop, he caught a line drive to the rear and right off second base, thus putting out the batter. He hastily touched second base, thus putting out the runner trying to come back from third. He then dived into the player that came running from first. Triple Play!
Ball was born on April 22, 1881 in Grand Haven, Michigan. Ball died on October 15, 1957 in Bridgeport, Connecticut. He was interred at Mountain Grove Cemetery , Bridgeport. In 1902, Ball played for the Three Rivers semi-pro team. In 1907, Ball was signed by the New York Highlanders (Yankees), for whom he played two seasons. Partway into 1909, he was traded to the Cleveland Naps (Indians). During the 1912 season, he joined the Boston Red Sox, for whom his final game was played 30 June 1913. From 1913 to 1923, he was affiliated with 6 minor league baseball teams as a player and manager.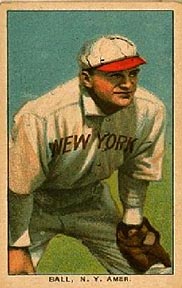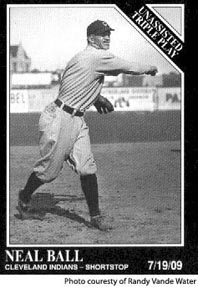 Thanks to

Jimmy Ferris for sharing these photos.

Press the 'BACK' button to return to the PREVIOUS Screen