St. John Nepomucene School
Pembroke Street
Bridgeport, CT
Eighth Grade Graduating Class
1958
Top Row:  Jim Murphy, ? , Andrew Ungus, ? , Andy ? , Ron B ?.
5th Row:    Gary Kurimsky, John Halapin, Tom Halkovic (now a Priest), Bill Tomas, ? , Gary Thornberg, Joe Madar, Rich Marcincin, Joe Kalakai.
4th Row:    Larry Lesando, Ron Racsokowitz, Joe Maco, Joe Lampart, Ron Slossar (deceased), George Vargo, Rich Firmender (deceased), Al ? , Chuck Duch, Angelo Luperello, Andy Samudosky.
3rd Row:  George Lucas (now a Priest), Mary Elizabeth Wargo, ? , Pat Halitsky, ? , Lucile Kimberly, ? , ? , ? , ? , Bill Voytek.
2nd Row: Beatrice Malasak, Nancy ?, Gail Horney, Gail Kurimsky, Kathy Slossar, Nancy Stovola, Andrea Biros, ? , Barb Skau, Clair Norko, Anita Bazata.
Bottom Row:  Fr Grinvolski, Fr Tomasko, Fr Matty.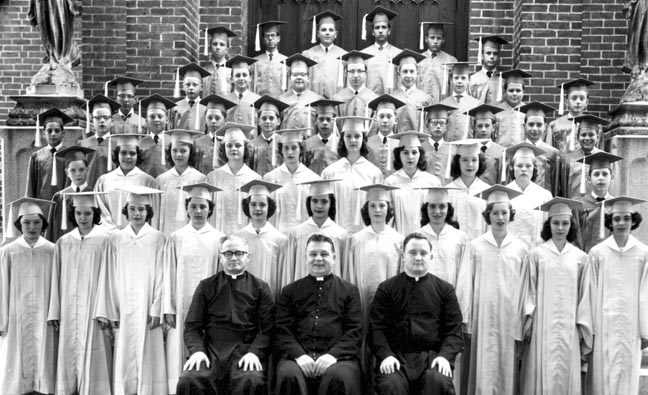 (Special Thanks to Bill Voytek for sharing this photo)
Please send in the any missing names you might remember.
Press the 'BACK' button to return to the PREVIOUS Screen