"Indians"
East End Little League
Bridgeport, Connecticut
1958
Back Row L-R: (1) Mr. Sam Patterson, (2) Pierre Mebane, (3) Jimmy Ferris, (4) Tom Saunders, (5) Charlie Elderidge, (6) James Hodges, (7) George Smith, (8) Mr. Phil Napilatano Sr., (9) Mr. Figsby.
Front Row L-R: (1) Kenny Figsby, (2) Phil Napilatano Jr., (3) Warren Langston, (4) Sammy Patterson, (5) Stanley Wuchek, (6) Richard Bonney.
Missing from the team photo are: Mr. Joseph Pacific Sr., Joey Pacific Jr., Frederick 'Ricky' Pacific.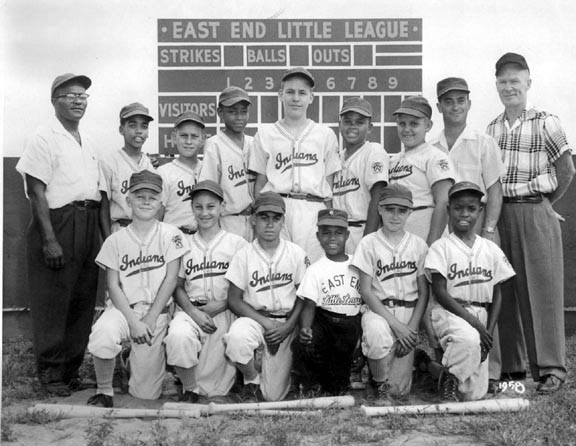 Special Thanks to Matt Siwy for sharing this photo.
Press the 'BACK' button to return to the PREVIOUS Screen