McKinley Grammar School
Some Members of the Class of 1961
(This group was together at McKinley School on Hollister Avenue from Kindergarten thru 8th grade graduation.)

Top Row: Lois Delorem, Elaine Sinkowicz, Gail Farber, Linda Hanson, Marie Fumora, Beverly Basko, Gail Sprandel, Pamela Plumb.
Front Row: Steven Hawker, Leo Krikorian, Carl Roreich, Matthew Siwy, Billy Varese, Kenny Caserta, Michael Pantano, Teddy McCormick.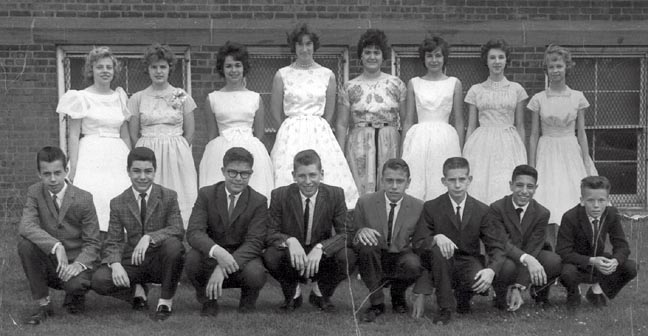 (Our THANKS to Matthew Siwy for sharing this photo with us!)

Press the 'BACK' button to return to the PREVIOUS Screen