Barnum Grammar School
Graduating Class of 1959

Top Row: Joseph Naher, Lenny Roberto, Ralph D'Aurio, John Di Stassio, Salvatore (Sammy) Genova, Donald Smith, Dieter Kaschel, Frank Oliva, Paul Daymond, John Altieri, Ralph Thomas, Edward Trivers.
Second Row: Stephen Massimino, Mary Ostrowsky, Joyce Komarmy, Marta ?, ? , Zorene Fountain, Oksana ? , Joan Malec, Marilyn Skinner, Anna Lake, Doris Ostrowsky, Joseph DeCarlo.
Front Row: Iris Rivera, Carol Lazzara, Dolly Comacho, Jergen Kelb, Maria Rodriquez, Kenneth Perry, Joyce Orgenus, Judy Pagnozzi, Mary Anne Naher.

Note: Lots of faces without any names, so if you can ID them, please send information to Jim Sullivan.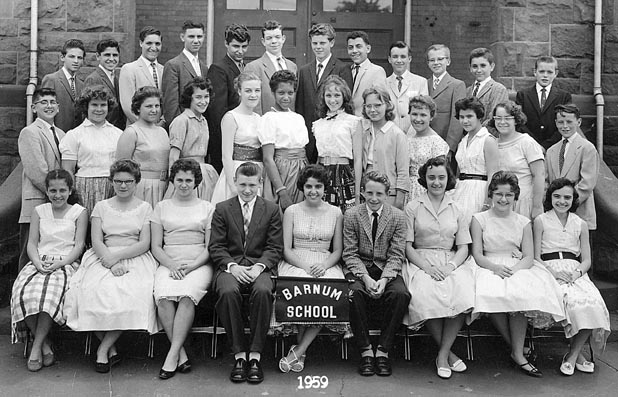 (Our THANKS to Iris Rivera Martin for sharing this class photo with us!)

Press the 'BACK' button to return to the PREVIOUS Screen