Summerfield Grammar School
Graduating Class of 1955
Note: Please e-mail us the names (or corrections) of anyone you might know. Thanks!
TOP ROW (left to right): #1-HARRY (THE HORSE) NOROIAN, #2 Arlene Voigt, #5 Charles Babson, #6-CLARENCE SCHULENBURG, #7-Patricia STOSAK, #8-DICKIE PEKAR.
FOURTH ROW: #2-PATTY CARLE, #3-JULIANA SCHULENBURG, #4-JOAN MCFARLAND, #6-JACKIE CYR, #7-JOE ROMANO, #9-MAUREEN REDMOND, #10-NORA HOGAN, #14-TOM McFARLAND.
THIRD ROW: #6-RUSS SOUTHARD, #7-JOHN NETTLE, #8- DENNIS TSUKALAS, #10-HENRY MEBANE, #11-ALEX HORACHUN, #12-FRED HILL, #14-MARIE ANTOINETTE BUONAGURO, #15 Marilyn DeJoseph, #16-MADELINE RODIA, #18 Barbara Zitney.
SECOND ROW: #1-BOB BERRY, #2-JOE PEABODY, #3-STEVE POLIFKA, #4-BERNARD FITZGERALD, #6-RICHARD PLAIN, #7-RON DEMMERS, #8-HENRY HUDSON, #10 Andrew Palowski, #11-JOEY WILLETTE, #14-AL PETROVICH, #15-SAM DONAFRIO, #16-ED MORANGE, #17-BOB GALL, #18-WES EASTMAN.
FRONT ROW: #2-SYLVIA UTITUS, #3 Jacqueline Stosak, #4-DIANE FRIEDMAN, #5-PAT VLACICH, #8-LARRY DWYER, #9 William Brown, #10-ROSALIE LUPO, #12 Jewel Malaski, #14-ANNE WILLETTE.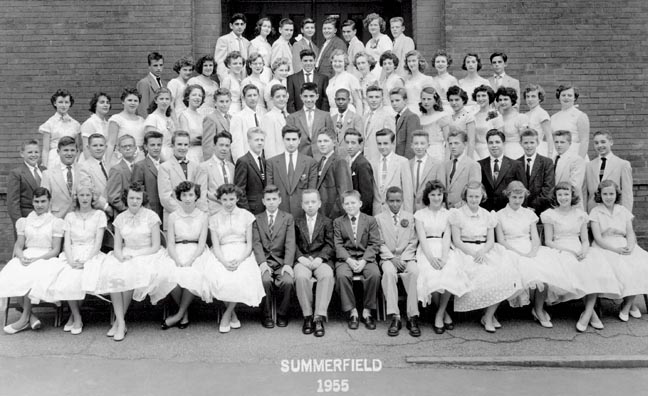 (Many Thanks to John Nettle for sharing this photo)

Press the 'BACK' button to return to the PREVIOUS Screen