Garfield Grammar School
Graduating Class of 1956
Note: Please e-mail us the names (or corrections) of anyone you might know. Thanks!
Top Row (left to right): William DeSorbo, Walter Matary, Alexander Rojowski, George Votek, Steven Kochiss.
Third Row: Francis Earl, Bernard P? , Helen Kopcik, Peggy Carrafiello,Dorothy Palasky, Marion Hricus, Carol Fultz, John Pura, Liberto Albanese.
Second Row: Ruth Orechovesky, John Fedak, Joan Lucia, Louise M?, Carole Semon, Patricia Barkasy, Margaret Bassarab,Adrianne Marra, Michael Ferro, Virginia Snee.
Front Row: Sally Carrafiello, Diane ?, Raymond Danieli, Patricia Peterson, Arlene Kovalsky, Ernest Veranes, Barbara Gurg, Mary Yatsinko.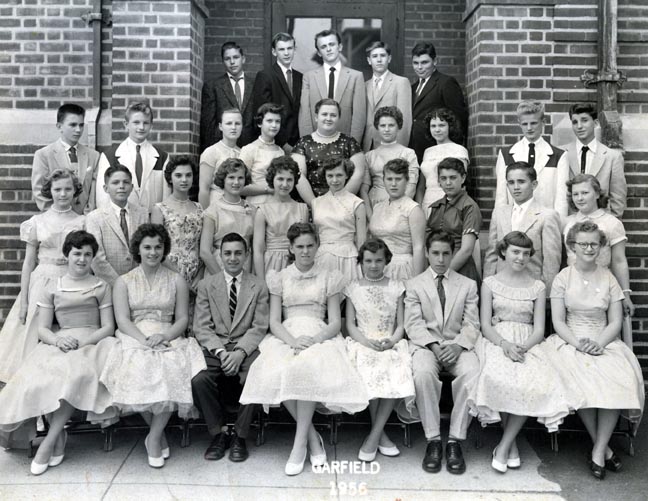 (Many Thanks to John Pura for sharing this photo)

Press the 'BACK' button to return to the PREVIOUS Screen