Hall School Grammar School
Bridgeport, Connecticut
Graduating Class of 1959
Top Row: Bobby Gerchick, Roger Koment, Frank Rubarsky, Michael Costello, George Costa, Billy Latham, Stanley Chessick.
Third Row: George Powers, David Rubinstein, Michael Hydeck, Kathy Kvancz, Sharon Browning, Gerri Rice, Joan Domkowski, Paulette Bourdeau, Phyllis Forbes, Patty Kulberg, Joe Deutsch, Larry Geiste, Mark Conway.
Second Row: David Dempsey, Jim Severnak, Shirley Carlton, Kathleen Denhup, Dolly Aanenson, Patricia Geiste, Viola Michetsch, Alvina Jones, Sharon Burnett, Elaine Bocchino, Christine Dempsey, Jalna Michlewski, Gracie Scalzi, Marilyn Jarosik, Peter Oros, Ray Johnson, Jerome Babij.
Front Row: Mary Costa, Gloria Mitskus, Carolyn Dempsey, Carolyn DePrimo, Sally Lange, Suzanne Russell, Barbara Macko, Colleen McCue, Bonnie Olah, Diane Bocchino, Evelyn McLane, Ilona Liscinsky, Patty Gush.
Classmates Louella ' Terry' Nadeau and Vivian McCarthy are not shown in the photo. Vivian later died in an auto accident her Freshman year in High School.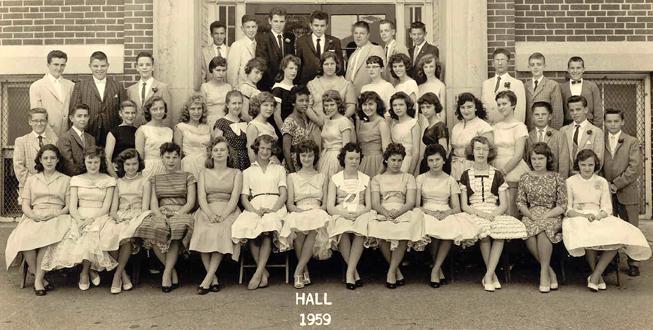 (Thanks to Jim Severnak for this photo)
Press the 'BACK' button to return to the PREVIOUS Screen